Pre-register now!
Up to US$100,000 worth of prizes to be won!
We have prepared big pre-registration prizes!
Tap the button below to pre-register at your device's app store and stand a chance to win a physical prize. There's up to US$100,000 worth of prizes to be won!
Prizes
5 x MacBook Pro 16″ of a random color (Intel Core i9, 1 TB), worth US$2,799
20 x iPhone 13 Pro Max of a random color (1 TB), worth US$1,599
800 x US$50 Amazon Gift Card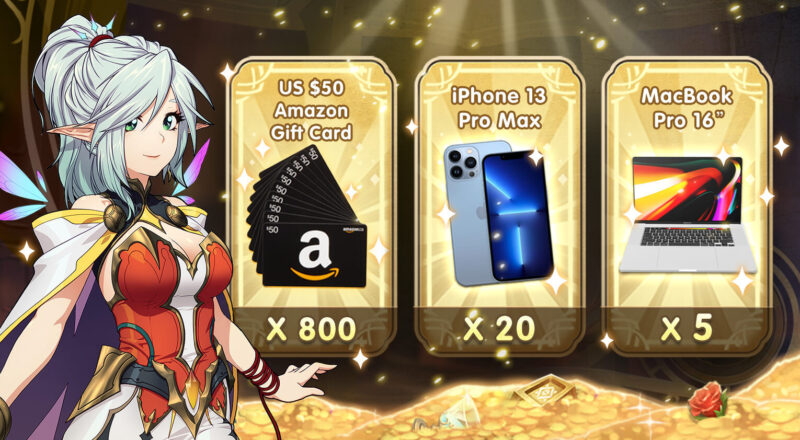 Here's what you need to do to enter the prize draw:
Pre-register for Mythic Heroes on Google Play Store or App Store
Download the game after its official release
Get your Summoner to Level 2 within 7 days of the game's release (don't worry, it won't take long!)
Rules:
The lucky winners will be drawn one week after the game's release, and the list of winners will be displayed on the Mythic Heroes official website. We will also notify winners of the giveaway through in-game mail. Follow the instructions in the mail and provide us with valid information to receive the prize. All personal information provided is strictly confidential and will only be used in the shipping of the prizes for this event.
For winners of the Amazon Gift Cards, please note that they are only valid for Amazon US. After receiving the prize, they can be used to make purchases at the corresponding Amazon store. Players are responsible for their region's own tax liabilities in respect to the prize.
All physical prizes will be sent out within 30 working days after the event. Shipping time for some physical prizes is subject to availability. We reserve the right to substitute prizes of equal value if prizes are out of stock, out of production, not available for sale, etc.
Notes:
Players will be responsible should any loss of prizes arise from inaccurate or missing information.
We reserve the right to pursue legal action against participants who attempt to cheat or participate in fraud.
Please read the event rules carefully before taking part in the event. All event participants are considered to have agreed to the event rules above.
Usage of the gift card is subject to the rules of the Amazon store.
This event is covered by the [Terms of Service] (Log in to game – Settings – Terms of Service). We reserve the right to final interpretation of this event, its rules, and its rewards.