Hello Summoners!
First of all, thank you to everyone who has played Mythic Heroes so far! We have had so many new Summoners join the battle that we have been able to open FIVE SERVERS! We hope that you have enjoyed the game so far and we look forward to releasing more and more content in the near future!
Stats
These first 4 weeks have shown us some amazing statistics of how you, the players, like to play Mythic Heroes! For instance, did you know that Athena is currently the Hero most commonly leveled from 60-100? Here are some more stats on our first few weeks of gameplay:
Over 4000 players have passed World 10 in just 2 weeks!

The Top 3 most popular Heroes to Level up to 100 are Athena, Zeus, and Hades.

The Royal Guard remains the most feared enemy in the entire Ascended Realm!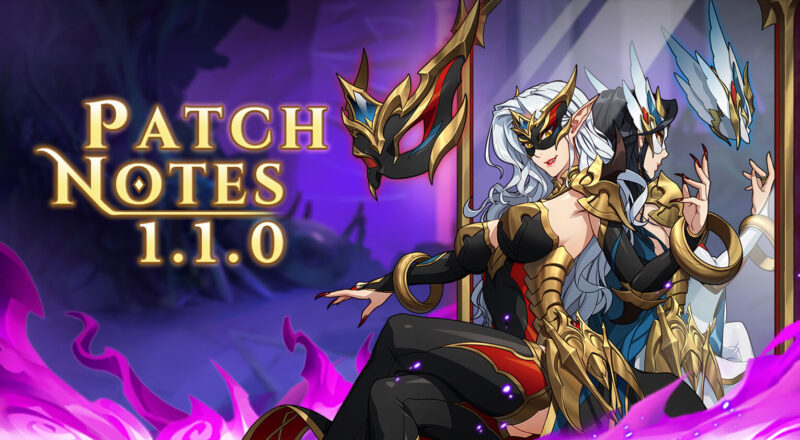 Patch Notes
After seeing how players have been progressing through Mythic Heroes for the first 4 weeks, we have created some changes that are now live after the 2021-10-02 8pm – 11pm(UTC) Update.
The Development team was very surprised to see how fast and how far many of you were able to progress through the Campaign. A lot of players were able to progress further in the campaign than was intended without using key features like Iconic Weapons and Divinity. Many of the changes that have been implemented are to make these features more useful for players, at the new times they are now available throughout the game. We hope that these changes will allow players to use the features to their fullest potential and bring the progression through the campaign, back in line with what we intended! Below are the changes that have been implemented:
The New Player Tutorial has been updated.

Some Dialogue has been added before and after some battles.

Adjusted the number of battles in the Chapter,  reduced from 12 to 6.

Hero Upgrade costs have been increased slightly to better align with the players' progression through the story.

Campaign level end rewards have been marginally reduced to better align with the story progression.

Elite Campaign level end rewards have been reduced slightly to better align with the story progression.

Some Enemy stats and battle lines have been adjusted.

Unlocking requirements for certain areas of the game have been changed. Note – If you are a player who previously had a feature unlocked and it has now been locked behind new requirements, all of your progression in that feature will return when you unlock the feature again. 

Elite Campaign will now be unlocked at 8-4 (was 9-4).

x3 Battle Speed will now be unlocked at 8-4 (was 9-4).

The Alchemy Workshop will now be unlocked at 9-4 (was 8-4).

Zodiac Caverns will now unlock at 11-4 (was 10-4).

Iconic Weapons will now unlock at 11-4 (was 10-4).

Changes have been made to the rewards from the Player Guide, Campaign Rewards, Elite Campaign, and the Zodiac Caverns to better reflect the new unlock requirements for these features.

The Drop conditions for Soulseals in the Astrolabe have been adjusted to align with the previously mentioned changes.

In the Marketplace, the second purchase option for Hero Shards for Diamonds has been removed and replaced with a Diamonds for Gold Coins exchange.

Diamonds earned on Summoner level up will now increase as you level up! Levels 1-40 will receive 10 Diamonds, 41-80 will receive 20 Diamonds. The number of Diamonds received will continue to increase by 10 every 40 levels!

Fortune Coins earned in the Fortune Altar will now only require 400 Guild Active points (reduced from 500). The 2nd Prize and 4th Prize rewards have also been been increased in value.

Some early-stage Diamond rewards have been reduced slightly. This will include finishing campaign stages, finishing Hades Hell areas, Summoner level up & Early game Achievements.
More Currency and Stat changes
The base rewards from the Zodiac Caverns and the first completion per level Diamond rewards have been slightly reduced. The rate at which the currencies dropped for your Heroes Iconic Weapons was at a level where players were able to progress too much using this feature without using other features like Enhancement and Ascension. This should now be more in line with the other features. 

The cost for the first Daily manual refresh of the General and Guild Marketplace has been changed to 50 Diamonds. The free refresh was allowing players to progress faster than intended without using other Marketplaces.

We have adjusted the General Market places item availability, mainly adding high-value equipment. The Guild Marketplace has also received an updated Item pool.

The probability of obtaining SSR and SR Heroes from the Summoner Sanctum has been adjusted.

We have adjusted the chance for the different amount of Diamonds that are dropped from the Pantheon Boss Diamond Chests (reduced slightly).

We have reduced the amount of Pantheon Badge drops for the normal Pantheon fights and the Boss fight. 

The Prologue and Chapter 1 received a balance to the rewards for Gold and other resources (due to the reduction in the amount of battles needed to be completed). 

Hades and Susanoo Hero Card rewards have been removed from the main campaign levels 3-32 and 7-40. The extra progression that this gave players also affected how fast you could progress through the campaign without using resources to Enhance, level up, and Ascend Heroes.
Guild Related Updates
The Guild Feature is unlocked after completing level 3-24

Guild Showdown is held on Wednesdays and Thursdays, and again on Saturdays and Sundays. Each Showdown lasts 48 hours.

Guilds that are created during the Guild Showdown cannot join the current Guild Showdown.

Inactive Guild Members

If the Guild Master has been inactive for a period of 3 consecutive days, the role of Guild Master will now be passed down to the next in line Guild Vice Master. The former Guild Master will remain in the Guild as a regular member.  

The Priority for choosing a new Guild Master is as follows: Individual weekly Guild Activeness > Number of stones donated to the Research Center > Most recent Login time > How long the player has been in the Guild. 

If there are no Guild Vice Masters, or they have also been inactive for 3 days, the Role of Guild Master will be transferred to regular Guild members using the priorities above. 
Mastermind Arena adjustments
When choosing opponents in the Mastermind Arena, we saw that some teams were actually stronger than their Battle Points indicated. This was caused by that player recently changing ranking. Now if you choose one of these opponents, you will receive a notification asking you to reselect a new opponent. No resources will be lost in this process. 

Buffs for the three initial battles of the Mastermind Arena have been adjusted from 10% to 20%. 

For the three initial battles of the Mastermind Arena, if you run out of time as the Challenger, it will count as a defeat.
Store changes
We have implemented some changes in the Store. Below are these changes:
Changes have been made to the Permanent Subscription pack.

Price adjusted from $29.99 to $19.99 (USD).

Nuwa is no longer available in the rewards.

Daily UR shards have been increased from 1 to 2.

Some of the Pop-up Value packs during the Campaign have had their rewards increased.

The First Purchase rewards pack has been changed from containing Lucifer to now contain Zeus.

After spending $19.99 or more on a single store item, you will receive a one-time bonus pack containing Lucifer and  some equipment.
New Features!
We were able to include a new and requested feature in this patch:
Saved Lineups

The feature has now been implemented that will let you save your Hero Lineups for different types of battles! You can access it from the Hero section of the Menu and save up to 40 total Preset teams! You can even name your team presets so it is easy to tell which one you want to use depending on the area of the game you are looking to play in!
 This Patch also includes some Bugfixes! Below are the listed bugs that have been squashed:
The visual bug in the Pantheon Battle Finish screen has been fixed. Players were reporting seeing a higher amount of rewards on the battle end screen and these rewards were not reflected in their inventory. Rewards will now show correctly in both places.

The use of RichText in the Summoners In-Game Name and Description has been removed. Compensation for those players who will need to change their name will be sent in the in-game Mail.

Multiple Localization and Typos have been fixed!
Last of all, get ready to meet LILITH, our newest UR Hero, who will be available in the Limited Summon Banner after it next resets! 
Lilith, the Night-Queen, is a Mage Hero with a split faction between the Guardians and the Shadowarch faction. Switching between Human Form and Demon Form using her masks, allows her to switch up her attack types. In Demon form, she is an Area of Effect damager casting damage to all those that get too close, and in Human form, she will target a single enemy with massive damage! Lilith will choose which mask to wear based on her Allies in battle, if you have more Guardians on your team, then she will put on the mask that allows her to use her Human form. If you have more Shadowarch allies, she will transform into her Demon form!
Check out all her new mechanics and skills in your Portraits right now!
Thank you to all the Summoners out there who have supported us so far and played Mythic Heroes! You are going to help us make this the BEST game it can be!
We will see you in the Ascended Realm!