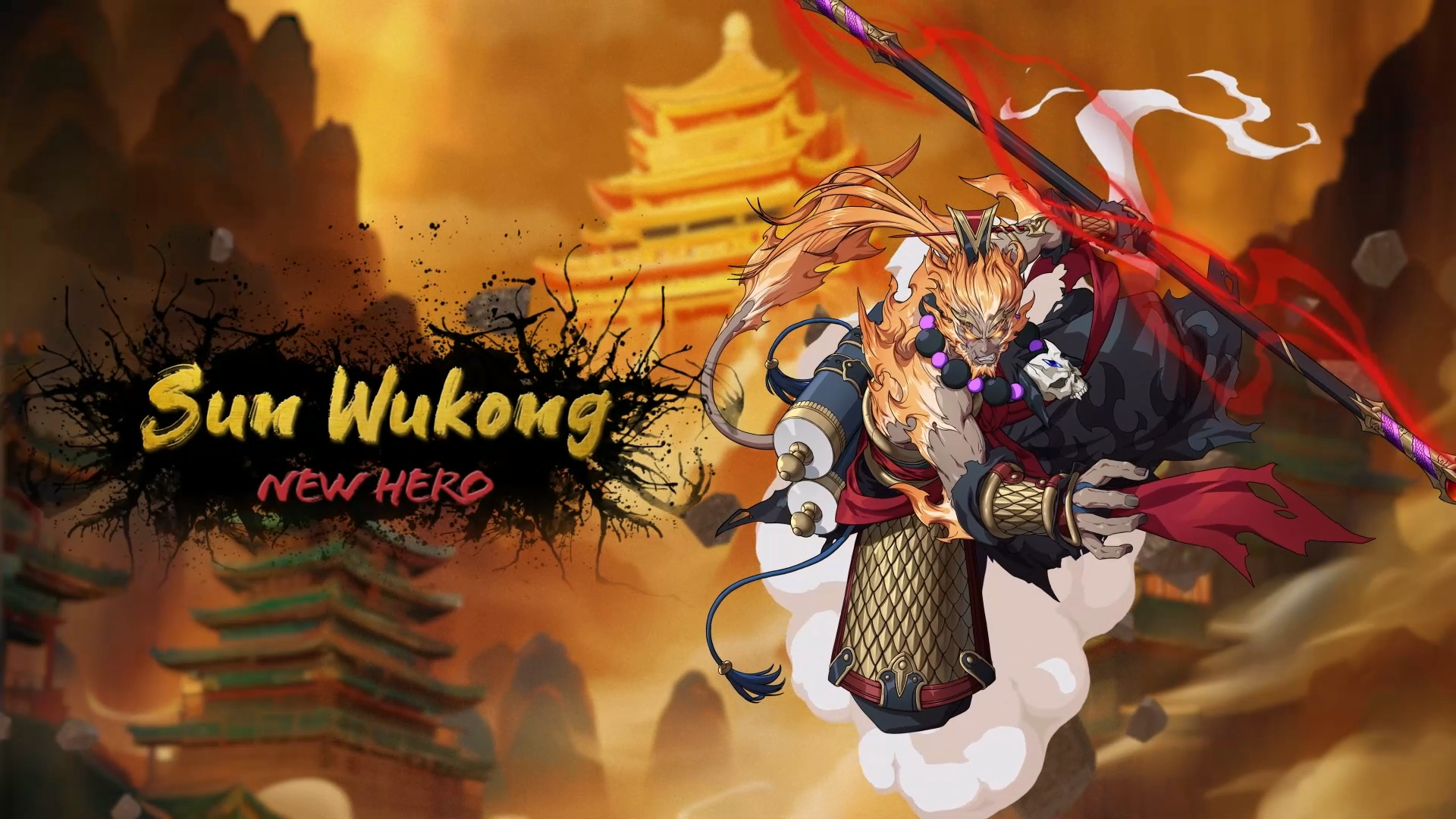 Hello, Dear Summoners!
Brace yourselves for a whirlwind of adventures and enhancements in the Mythic Heroes universe! Update 1.24.0 promises a blend of legendary tales, refined gameplay, and smoother experiences. Here's what awaits you:
New UR Hero: The Legendary Sun Wukong
Embark on an epic narrative with the formidable Sun Wukong! Harness his transformative journey from a fierce king to a gallant warrior, mastering abilities that shape the tides of battle. Command the golden cudgel and step into a world of strength, redemption, and awe-inspiring adventures.
Champions Arena: More Team Slots!
You asked, we listened! We're amplifying the excitement in the Champions Arena with extended team dispatch slots. Here's the new lineup:
| | |
| --- | --- |
| Division No. | Teams Now Available |
| 1-3 | 5 → 6 |
| 4-6 | 4 → 5 |
| 7-9 | 3 → 4 |
| 10 | 3 |
We believe these tweaks will add a fresh layer of strategy and fun to your battles!
Astrolabe Enhancements: Boosted Rewards!
Summoners advancing past the main campaign 24-4, rejoice! We're enriching the Astrolabe with additional rewards such as Refining Stone, Random Essence, and Random Pure Essence, aiming to facilitate a smoother ascent for your heroes.
Western Queen Skill Revamp: Clarity Redefined
We've refined the 'Blue Bird's Favor' skill description to foster a clearer understanding and avoid potential misunderstandings. The updated skill now reads:
"Western Queen directs her blue bird to follow the ally Hero with the highest Base Attack, granting 20% of her Attack to the target. Note: The blue bird vanishes if Western Queen is defeated."
Fable Agora Update: Full Shift to Limited Summoning Scrolls
In a move to enhance flexibility, we've fully transitioned the top tier rewards to Limited Summoning Scrolls, facilitating a more targeted strategy in acquiring heroes.
Bug Smashes: Various Fixes
Crusade
Resolved the erroneo  us message and abnormal Strength deductions post boss battles.
Oda Nobunaga
We have fixed the issue with the abnormal stacking effect of the Nobunaga's Iconic Weapon 600, which was causing excessive damage. Please refer to the skill description for the specific values.
Sinful Abyss
Dionysus: We've corrected the mistake where Dionysus was mistakenly defined as the highest damage AP, causing Leviathan to prioritize attacking him. This issue has been resolved.
Lilith
Fixed the Iconic Weapon 600 feature, now efficiently blocking enemy ultra skills for 9 seconds.
Fable Agora
Remedied the abnormal prerequisites issue, offering a seamless gaming experience.
Dragon Troves
Resolved the Cooldown Time mechanism glitch, facilitating proper triggers of cooldown time post multiple battle attempts.
Thank you for being a vibrant part of the Mythic Heroes community. We are eager to explore this riveting journey together. Happy gaming!