Hello Summoners and welcome to the first update of 2022! We hope you had an enjoyable Holiday season and are looking forward to what is to come in Mythic Heroes this year. So let's get started, shall we!?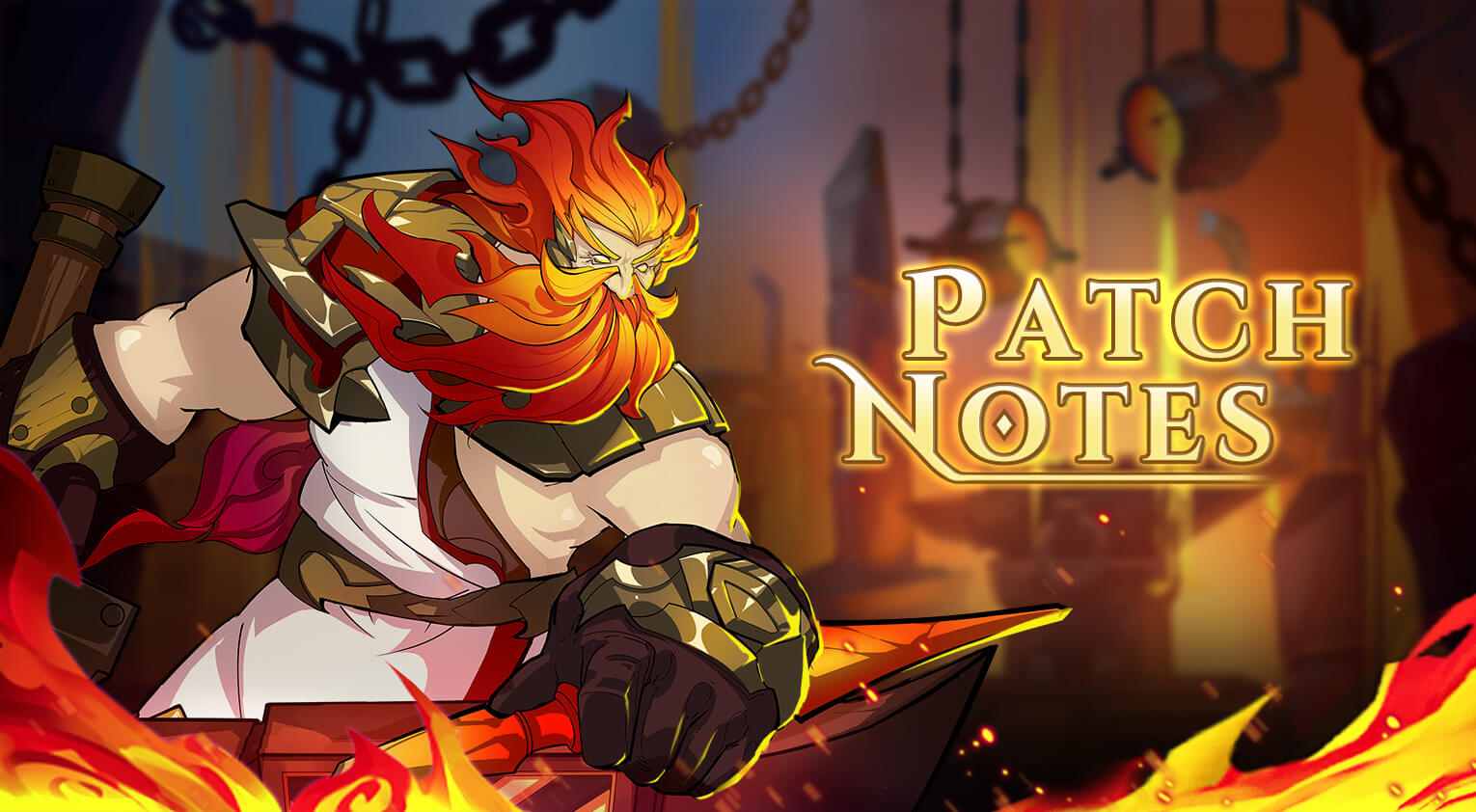 Lunar New Year Event
On January 29th, we will be starting our Lunar New Year event! Collect Fireworks from quests, daily activities and launch them into the sky to collect colored lucky bags which can be traded in the event store for a huge variety of items, including Summoning Scrolls, SSR and UR Hero Shards, and more!
More to come on this upcoming event, next week!
Event Center Community Tab
The Event Center is being expanded! Select the Community button in the Event Center to join us on all our Social platforms. There will even be rewards for joining us! Each month we will also be featuring special Community Events that will unlock new codes with rewards based on how many members of the community join in!
New Hero Events

With the change to Hero Evolution events (mentioned below), we wanted to introduce a new way for Summoners to have more opportunities to earn copies of the newest Heroes that arrive in the Ascended Realm. Obtain Treasure Keys from Daily quests and open chests to earn a variety of rewards!
This event will start with the release of Poseidon, today, January 21st!
Other Updates
New Hero Evolution (name change from battle pass) changed. Sidequest 4 conditions: Weapon attribute required 500, changed to 400.

Guild Research Centre – Levels adjusted for all skills apart from the initial first level skill. Example – a skill that previously required Guild level 6 to unlock, will now be available at level 5, a skill from level 4 will now be available at level 3, and so on.

Locked Cube of Truth skill descriptions can now be read. 

Arena Battle Power display updated. Now, when you search for an opponent, if their battle power is 10% or higher than your team's battle power, it will be shown in red!

Some updates to Hero Guides for Optimization.

Players will unlock the skin avatar profile at the same time after player unlocked/have both hero and hero skin.
Battle Pass Adjustment – Extra bonus can only be collected after you purchase Battle Pass

Bugfix – Hecate should stop showing up in random screens inside the game after leaving the Astrolabe!

Divinity Skill, Tenacious has been fixed. The ability was not increasing Sheild strength of all shields.

Pantheon difficulty increases. (The difficulty of the Pantheon has greatly increased for all players. This is an unintended change and our team are working to resolve this issue as soon as possible.)
I think this is the most anticipated section of the monthly Patch Notes, so I will dive right in! Lots to cover today!


The ability, Monster King has been fixed. Lv.3 and 4 (snakes recovering max health) were previously not triggering.

Typhon's Titan Shield, once destroyed, will deal 15% of the Enemies health as true damage to all enemies (changed from 15% of Typhons Health). This effect is already in-game, this is just a change to the description to match the ability

Iset's Ultimate, Revival Ritual, has received a bug fix to health recovery on revive, where the health of the Hero revived was lower than expected. 

Iset could sometimes be prevented from reviving her allies, this has been resolved. Please install update 1.6 from your app store to ensure this bug fix will work.

The description of some of Anubis' abilities was not consistent with his actual skills. The description of his level 2 Ultimate previously said "recovers 60% of his max health" when in reality, he only ever recovered 25%. The ability has been fixed to be accurate. Mummy attack speed in his ultimate was displayed correctly in the description but the ability was only performing at 50%. The ability has been adjusted to perform at 100% (was 50%).


Mummy Commander ability – Every 5 auto-attacks from a mummy will recover 5% HP for Anubis (Fix to the description to accurately show what the ability was already doing).

Mummies inherit 50% of Anubis HP, the description said 30%. Updated to accurately show 50%.

After casting his Ultimate, Power Surge, Archimedes will need to repair his airship for 5s. During this time, Archimedes will now be invincible.

Lubu's Hitbox issue has been resolved!

The ability, Halfmoon Slash can no longer attack the backline of the enemies at the beginning of battle, to compensate for this change, we have reduced the number of hits needed to trigger the passive, Force of Tiger. Force of Tiger will now activate on 1 use of Lubu's auto-attack (2 strikes from Lubu's Halberd).

The Passive, Unbent Heart, also includes 50% (scaling) Magical Resistance, along with the physical resistance. This was an effect already in-game, just not in the ability description. 

Lv. 4 Iconic Weapon ability effect was not working (20% attack increase). This has been fixed. However Cassandra, after receiving this fix, was performing far above her intended strength. So to ensure this bug fix does not upset the balance more, this increase in attack has been reduced to 10%. 

Idun's Passive, Idun's Salvation has received a bug fix that resolved the issue where the cooldown on her Apples was 2s longer than it should have been. 

Iconic Weapon increases to HP recovery were lower than the description increases. These increases have been implemented to match the description (description was 10%/15%/20%, but in-game was 6%/9%/12%).

Added to Medusa's description, 'Petrified enemies will take 30% more damage'. This effect was already in place, it was just missing from the description. 

The ability, Precision Strike was displaying incorrect information in its description. Passive Attack speed increases in the description will now correctly display as 5% and 7.5% (previously showed much higher numbers of 50% and 75%). Once again, this is a change, only to the description of the ability. Susanoo will not work differently in-game after this change. 

A bug fix was implemented for Hela's ability, Dark Cure. Dark Cure will now choose the target with the lowest defense instead of the nearest ones. This ability will no longer target summons.

The Ultimate, Deus le Volt, has been fixed and can now be cast on Joan if she is the Hero with the lowest Health before Iconic Weapon is activated.

When casting his Ultimate, Oberon could sometimes lose his target (if they died or were removed from the battlefield) and he would stand still. This will no longer happen. Please install update 1.6 from your app store to ensure this bug fix will work.

UI fixed where Zeus seemed to have two left feet. No more jokes!
Lots of Hero changes this month, with lots to do coming up in Mythic Heroes! But that is the end of this week's Patch Notes! See you all in the Ascended Realm!
^ Ceeg
Community Manager