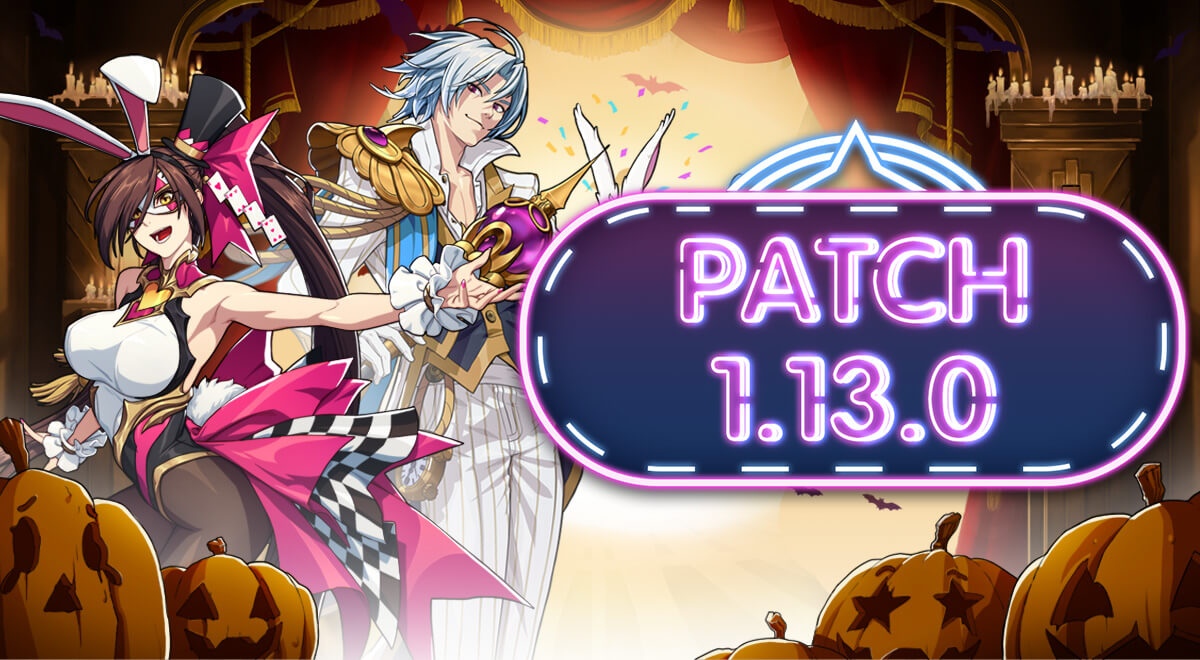 The spooky season is upon us and the Ascension Realm has been dressed up for the occasion! As Halloween approaches, the Kingdom and Astrolabe have been decked out with some spooky decor for the autumn season.
Game Mode and Event Updates
Limited Halloween Event – Halloween Carnival
Celebrate Halloween in Mythic Heroes with the Halloween Carnival! The Halloween Carnival will run from October 22, 0:00 UTC until November 04, 23:59 UTC.
During the event, harvest pumpkins, challenge the Royal Casino boss, and exchange rewards for prizes including special event currencies, enhancement resources, and Heroes! Make sure to check in daily for bonus rewards to accelerate your event progression and earn an exclusive avatar frame to show off on your profile!
This event will also bring two exclusive event skins for Loki and Lilith, dressed in their Halloween costumes – earn these skins by completing their respective event quests during the Halloween Carnival!
Loki, Dapper Magician: Collect 50 Candy Boxes in the Candy Kiosk

Lilith, Hocus-Pocus Bunny: Harvest 325 Pumpkins
In-Game Event Calendar
The in-game event calendar has been updated to reflect the next month of events!
Valhalla is Back!
Challenge a powerful boss for a limited time to earn Valhalla coins to redeem for bonus rewards in the Valhalla marketplace. This time, your opponent is none other than the Goddess of Life herself, Iset!
Other Updates
Ragnarok
The status of the game modes inside Ragnarok (Valhalla, Bifrost Bridge, Void Portal) will now be displayed on the menu interface.
New Player Experience
We've made adjustments to the new player summoning introduction to enhance the new player experience! 
New Player Summoning Pool
Now, players new to Mythic Heroes can re-roll their initial 10x summon until they draw a pool of Heroes that they are satisfied with, guaranteeing exactly one (1) SSR hero with every summon!
Tutorial Restructuring
The mandatory tutorial phases have been optimized for a smoother experience when playing Mythic Heroes for the first time.
Purchasable Packs – Progression Premium Packs
The following packs have been removed for purchasing:
Main Campaign Premium Packs

Elite Campaign Premium Packs

Hades' Hell Premium Packs
For players who have already purchased the Premium Packs, all remaining rewards, locked or unlocked, from their purchased premium packs will be sent to their account to claim via in-game mail.
New SSR Hero
Nephthys, the Protector of the Dead
Nephthys will be the newest Shadowarch to join the Ascension Realm! This mage unit will help amplify your team's magic damage dealers with a mix of AOE damage, curses, and control. Nephthys will be available to summon starting October 15th, 0:00 UTC.
Bugfixes
Dangun
Power of Asadal: Fixed a bug where the shield generated from Dangun's Ultimate skill would be cast on allied summoned units instead of Heroes.
General Bug Fixes
Various UI issues within the in-game chat, player profiles, and Guild menus have received bug fixes.
Closing Remarks
We hope you enjoy the updated Halloween Carnival coming in this update and the introduction of Nephthys, a unit that can help amplify your team's magic damage! Enjoy the festivities!
^ MH Team