Hello Summoners and welcome to another Patch Notes for Mythic Heroes!
We hope everyone had a wonderful, safe Halloween and you are ready for what Mythic Heroes has yet to bring to the table for November! We have lots of treats in store!
Here are the Patch Notes for 1.3.0:
new hero – flora
A new Hero, Flora will take the place of Oberon in the Limited Summon Banner after reset Nov 2 00:00 UTC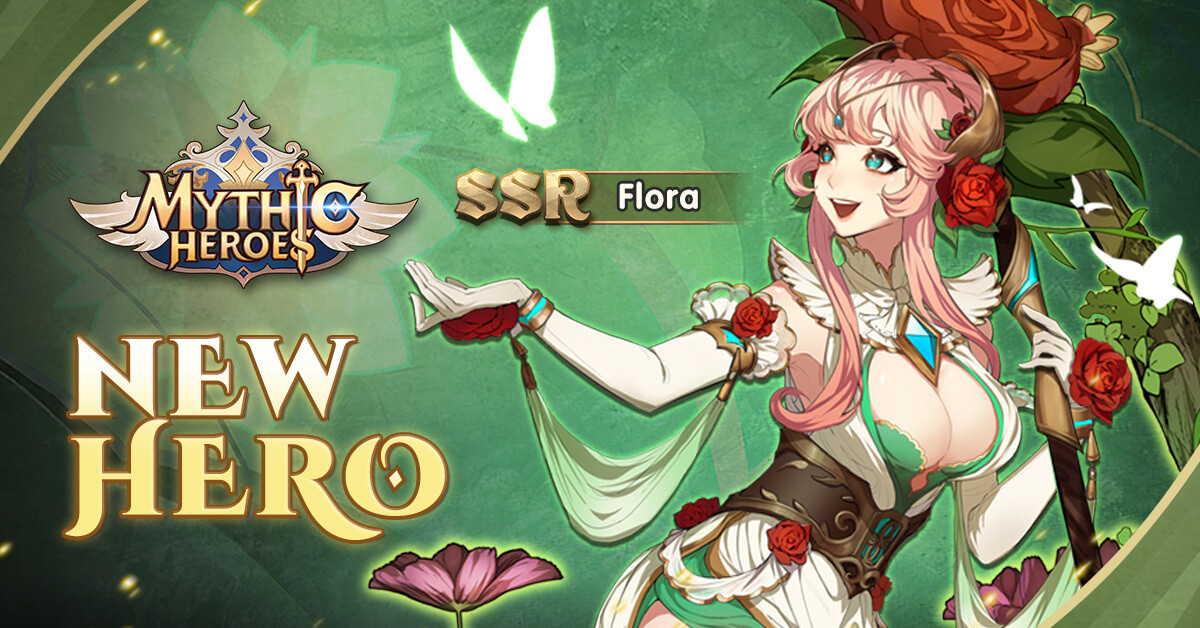 Dark Ritual – Lilith begins a ritual 10s 5s after the start of the battle. If she wears a human mask, she absorbs 5% of the Attack and 25 Energy from all allies but increases all allies' Defense by 25%. If she wears the demon mask, it absorbs 5% 7% of allies' Attack and takes 50 Energy from each.
Lv.2: With the demon mask, half of the absorbed Energy will be returned within 10s
Lv.2: With the demon mask, release the same skill 15s after the start of the battle.
Joan of Arc's – Iconic Weapon skill bugfix and adjustment

Ability at 100/200/300 points: Heroes protected by "Deus le Volt" convert 10%/20%/30% of the blocked damage into Health recovered. 
Joan of Arc's iconic weapon can now work properly according to skill description 
400 point : Joan of Arc is also protected when she releases "Deus le Volt."
400 point: Increases the number of allies protected by "Deus le Volt" to 2 (with the lowest Health).

Provoke – Hercules provokes an enemy that is not currently attacking him, forcing the target to auto-attack Hercules for 4s. While "Provoke" is active, reduce all damage taken by 50%
The damage reduction can now work properly according to skill description 
Popularity Rankings
We are adding a new feature that will show the Popularity Rankings of Heroes being used in Mythic Heroes! This will encompass the entire population of players and which Heroes they are using the most! See where your team lies in the Popularity Ranking!
Rookie packs and Value Packs
We made minor adjustments to the rewards for the Rookie packs and Value Packs. 

The Initiation Bonus of Zeus has been changed to Artemis. Players who previously claimed this Initiation Bonus of a different Hero will be able to claim it again (Artemis).
New Supported Languages
We have added 4 New Supported Languages!
Spanish

Portuguese

Thai

Turkish
New Features and bugfix
We were able to include some requested features and Bugfixes in this patch:
We added further optimizations to the feature that allows for quicker item use. This includes the ability to use the Fast Grab feature for Diamonds.

We added a Survey Feature that will let us send players Surveys to complete for rewards!

Some fixes were implemented for the Mastermind Arena and Gladiator Arena.

We adjusted the number of Puzzle pieces earned by some Daily Challenges to better weight completion of Dailies in different areas of the game.

Alongside this patch, we will be resetting the timers for the Arena in Servers 4 and 5 as they are not synchronized with the rest of the servers. After this reset, players from these servers will receive double rank rewards due to the new season ending earlier. This is to help resolve an issue that players in these servers were experiencing where they could not buy items from the Arena Store!
Extra Notes
That's it for the Patch Notes! But let's talk about the Guild rewards for the end of the Epic Showdown season.
The rewards for the end of Season 1 were quite low for the first season. But that will change going forward.
Season 1 was an unfairly weighted season towards those Guilds that started playing Mythic Heroes from its initial launch in the Philippines at the end of September 2021. Many Guilds did not get to start their journey in Mythic Heroes until our larger launch on October 16th. Having more than a 2-week head start was deemed unfair, so this season was changed to be more of a "Pre-Season" event.
With that being said, Season 2 will be beginning in roughly 24 hours with the first Epic Showdown matchmaking. Seasonal Victory Points will matter much more this season as the rewards are being completely reworked. At the end of today's Maintenance, we will be releasing Mythic Heroes in 19 new countries, so we will have even more Guilds to join the fight.
We'll provide more information about these changes soon, but they will be much more commensurate to the efforts you and your Guild are putting into the Epic Showdown!
Thank you for joining us on this Odyssey of a journey during our first month of release. We have reached many milestones thanks to you Summoners, and we are just getting started!
Keep an eye out after maintenance for the Code for the Spot the Difference event and our winners from the Reddit 1k Celebration!
See you in the Ascended Realms, Summoners!
Hotfix Notes 11-03
In today's maintenance, we fixed a couple of Bugs! You can read about them below:
Fixed – Astrolabe Core draw not delivering rewards

Fixed – 100 Hero Chest Fragment now contains Soulseals and Divinity Gems

Fixed – Pantheon will now drop Divinity Gems at the end of Battles

Fixed – Pantheon Boss Battle will now successfully drop Diamond Chests

Fixed – Artifacts will now drop from the Guild Boss Battles